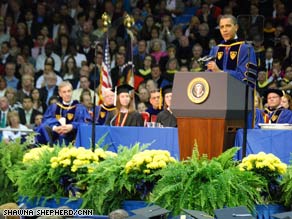 The Gallup organization
released poll data
in the run up to Obama's commencement speech at Notre Dame that for the first time in many years showed a majority of people in the US favoring a pro-life position over a pro-choice position. This as Obama was here in my home state of Indiana today, addressing the Catholic university Notre Dame in South Bend.
The airwaves and newscreens of America have been filled with sturm and drang over the extension of the invitation to speak and the conferring of an honoray degree on Obama, who supports abortion up to and including partial birth abortion. Pro-life groups and people have been all over the news expressing their anger and dismay that Obama would be invited to speak at a Catholic university, given that Catholic institutions are prohibited from giving a platform to abortion advocates.
I actually think that pro-life forces have Obama to thank for these latest Gallup results, in addition to some of their own work over the years. There's no question that the views of many who were softer in their opposition to the practice have sharpened their viewpoint as a result of Obama's election and his campaign promises to enact legislation that would expand access to abortion. Obama is having the same effect on many with regard to abortion as he has on the gun crowd who are rushing to buy guns for fear Obama would take them away.
Obama has caused the abortion debate to become sharper. This is actually quite positive, especially with a president who is a fairly ruthless and dispassionate political creature. I would actually argue that their is a good possibility to move Obama in a direction that would actually result in fewer unwanted pregnancies, as he claims he wants to do. Growing the number of people who subscribe to that prolife position is part of getting that done. Obama seems to be doing that quite nicely.